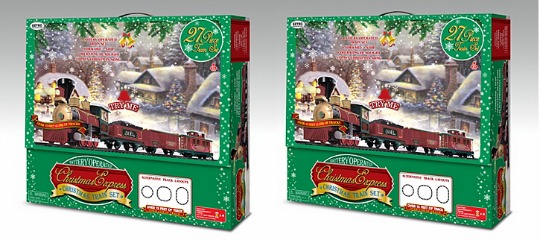 This is just about the most festive thing I have ever seen. If you love watching The Polar Express at Christmas time then this Battery Operated Christmas Express Train Set from Asda is a must. It's fantastic value at only £30, and they are currently taking orders for dispatch after 13th October.
This train set is battery operated so will whizz round the track on it's on, and has over 25 feet of track. The engine is coloured in festive red and green and comes with three carriages all with Christmas slogans and decorations on them. The engine's head lamp shines, and do you want to know the best bit? It plays Christmas carols! You want one now, don't you!
The review online points out that the description mistakenly says that this train set has a remote control, and a quick google search shows that this is an error, but all the other information seems to be correct. Even without that remote control I think that this is  tremendous value, especially when you see how much these train sets usually cost.
This Christmas Express Train Set is home delivery only, and cannot be collected in store so there will be an additional £2.95 home delivery charge.