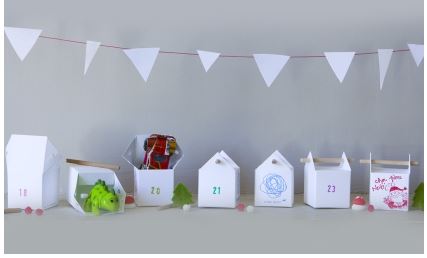 Cachette have Christmas clearance sale at the moment, with some fabulous prices on really lovely and somewhat unique Christmas decorative items. Definitely something worth looking at if you're thinking of freshening up the Christmas displays this year.
Before you start browsing you'll have to change the settings at the top of the page. It should be on English anyway, but pop over to Pounds to see the prices as they matter to us.
For Christmas goods, there's everything from advent calender boxes for you to fill with your own things -  and reuse year after year,  on the tree, to display on the mantelpiece or to scatter around in the house like a treasure hunt,  reduced from £31.99 to £19.20 - to a set of 12 felt stars made of linen fibres, reduced from £32.81 to £22.97.
Cachette ships from the South of France, and delivery takes 3-8 working days, and costs a fixed rate of 8€  or roughly £6.90. They have a special offer where you get a 10€ voucher every time you spend 100€, and if you forward the newsletter to a friend via the website, you each get 10% off your order too.