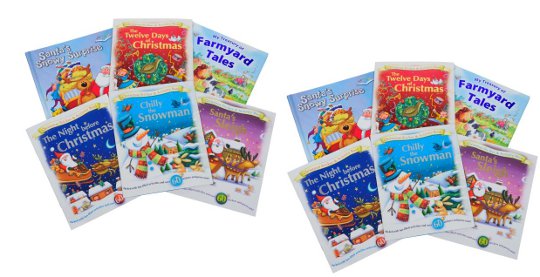 The Hut have what they claim is a 93% discount on four activity paperbacks and two hardback titles. They're selling the six books for £2.95 instead of £40.94. While I can't imagine ever paying that for single use books I know that they're worth a lot more than £2.95!
I actually reviewedThe Night Before Christmas, Chilly the Snowman, and The Twelve Days of Christmas before Christmas and think they are absolutely brilliant activity books.
They are full of stickers and activities such as dot to dot puzzles, spot the difference pictures, and press out models, along with other things.
The book Santa's Snowy Surprise is a pop-up book with bright illustrations to capture the imagination and is apparently full of hidden surprises.  The final book, My Treasury of Farmyard Tales has 160 pages of stories featuring a range of farmyard animals, perfect for bedtime any time of the year.  
These books are so good, they are worth ordering to keep as presents, or to put away for your own little ones for Christmas.
Thanks to tasi124 at HUKD