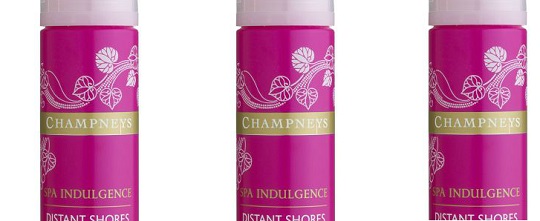 I think that this may be the longest product name title for a PlayPennies review yet and it is a worthy product for such an honour. Oh yes, it really is. I adore bath products and I've used all sorts of different types, styles, shapes and monetary values. It takes quite a bit to make me sigh with delight or go "Oooh!"
The Champneys spa indulgence mousse did just that for two reasons. The first is the fact that it is so unusual. I've used mousse in my hair and on my skin, but never as a shower soap before. Maybe I'm not as au fait with the world of bath products as I thought I was, but this is still quite a novelty. And what makes it even more special is how utterly clever it is.
When you use normal bath gel or soap you tend to get far more than you need onto the sponge. Or you spill a bunch, or you have to keep reapplying because it doesn't stay on the sponge. Not the case with this Champneys mousse. No. Here you give a few squirts of the mousse onto your cloth or sponge of choice, you shower, you don't run out. Well, I haven't!
The second reason is that the Champneys spa indulgence Distant Shores mousse smells divine. You don't smell like you have stepped out of a dodgy boudoir nor do you smell cheap, instead it leaves a fresh and slightly spicy note on your skin that catches your nose as you move, but doesn't impact on your perfume. I absolutely love this product.
However, the price tag is quite high. The Champneys Spa Indulgence Distant Shores Shower Mousse costs about £8 at Boots*. It has lasted me a month and shows no signs of running low, so this does bode well for the product's value for money, but £8 is quite steep if you're on a tight budget