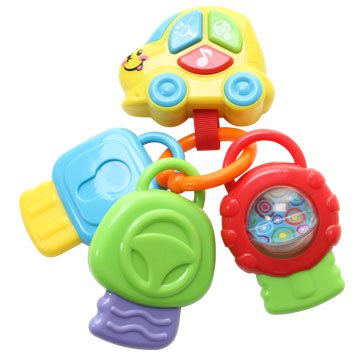 Kiddicare have the Key Chain Activities on offer for £5 instead of £10. Considering how simple these toys are, £10 seems quite a lot for what it is, but £5 is sure better, and little ones do tend to like them to chew on!
Children love playing with keys so they will love this keychain with lots of sounds and activities for endless fun. This car features 3 fun sounds at the press of a button and each key has either a click rattle or a spinner to play with.  It's suitable for children from 6 Months+ so great for gumming.
There are loads of sounds activities at the press of a button, which engages them too, and the three hanging keys have either a click rattle or spinner or mirror.
The toys come with batteries included.