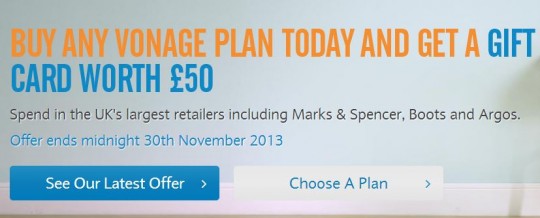 Vonage is a VOIP phone system that can dramatically reduce your phone bill. Sign up for one of their packages before 30 November - starting at £5 a month - and you'll get a £50 gift card to spend at leading retailers.

Cut your phone bills at stay in touch with Vonage*
Vonage can suit home users, businesses, or those who regularly call family and friends abroad. For £5 you can have unlimited UK land line calls, for £8.50 it' Unlimited Calls to 68 countries including United States, Turkey and Brazil, and for 3000 minutes to India and 48 Countries you'll pay £14.99 a month.
You won't need a computer, headset, calling cards or top - ups, just broadband and a landline phone. You can find out more about how it works on the Voyage website.
To be eligible for the gift card, account must be in good standing, with service active on 15th January 2014. Eligible customers will receive an email after 15th January 2014 inviting reward claims. Once a claim has been received and validated, a unique reward code will be sent to claimants.
Once your unique reward code has been received, claimants can visit the Vonage Reward Site and choose their Gift Card, from over 100 retailers.