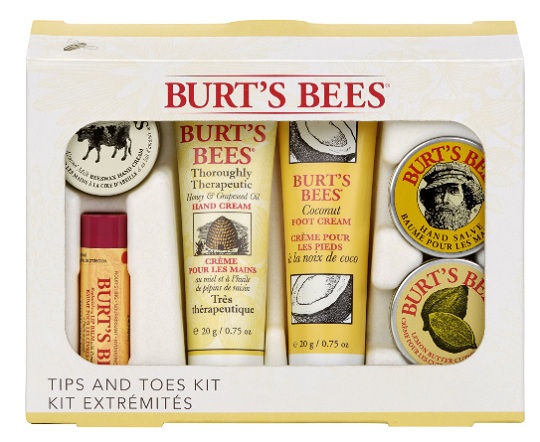 Save £4.00 (more than 30%) when you buy the Burt's Bees Tips and Toes Kit from Chemist.net. This fabulous Christmas gift is a steal at £8.99 and the perfect gift if you want to spoil someone this Christmas but are looking for something affordable.
The Burt's Bees Tips and Toes Kit contains a beautifully packaged set of rich creams and softening butters to keep hands and feet looking naturally healthy and beautiful.
• Almond Milk Beeswax Hand Cream 7g
• Pomegranate Lip Balm Tube 4.25g
• Thoroughly Therapeutic Honey & Grapeseed Oil Hand Cream 20g
• Coconut Foot Cream 20g
• Hand Salve 8.5g
• Lemon Butter Cuticle Cream 8.5g
With cream and balms for hands, feet, lips and even cuticles, this kit has it all. I love getting sets like this for Christmas and Birthdays as they're the kind of thing that I don't usually buy for myself but are so handy and make me feel a little pampered. They are great for travelling too so why not get one for yourself so you too can do a little pampering this holiday season.