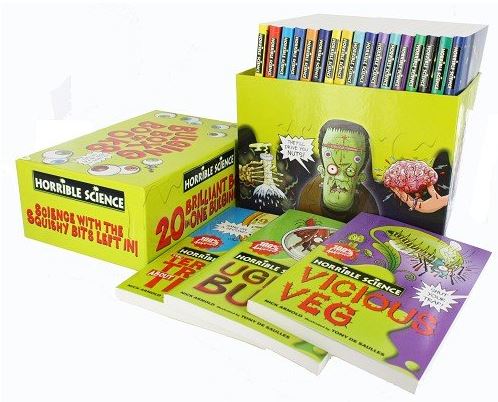 The Bulging Box of Books from Horrible Science is currently on sale for £19.99 at The Works. Add the offer code below and you can save another 15%, or £3, making the box set cost you £16.99. It's currently sold at £40 on Amazon so this is a  better than half price deal. Shipping is an additional £2.95, unless you add another £3.01 to your order, then it'll be free. 
Learn gross stuff this Christmas from Horrible Science and The Works*
Discount: 15%
Discount Code: NOVEMBER15
The Horrible Science books are a great gift that should engross (see what I did there?) audiences for hours. The box set has 21 five-star reviews on Amazon, so that's a good sign.
Inside this gruesome and gory box set you'll find 20 horrible books about science. These include:
Angry Animals

Space Stars and Slimey Aliens

Sounds Dreadful

Shocking Electricity

Ugly Bugs

The Terrible Truth About Time

Painful Poison

Nasty Nature

Microscopic Monsters

Killer Energy

Frightening

The Flight For Flight

Fatal Forces

Evolve Or Die

Vicious Veg

Disgusting Digestion

Deadly Diseases

Chemical Chaos

Bulging Brains

and Blood Bones and Body Bits.
Actually, it sounds like a literary feast for anyone who may love anything Roald Dahl, doesn't it? A perfect gift for boys and girls who are curious and like learning.