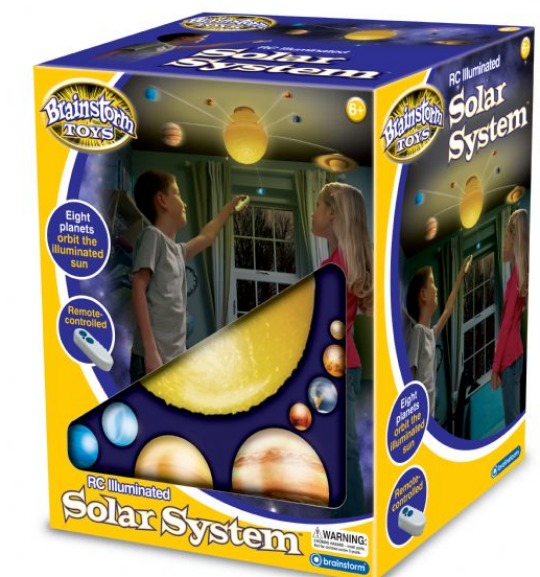 The illuminated solar system from Brainstorm (normally £35.00 at Amazon* but currently on offer at £25.24) is a brilliant gadget that will enthrall budding astronomers.
It's basically a model of the solar system which is fully motorised and illuminated, and operated by remote control. There are eight rotating planets and the sun, and you can use the remote control to make the planets rotate on three independent orbits around the sun, which also lights up. I told you it was cool.
As well as being a brilliant way to help kids get to grips with the planets and how stuff works out there in the solar system, this also functions as a pretty cool night light. There's even an auto shut-off function to save the battery life.
Here's what the press release says:
"With the incredible Brainstorm Toys Remote Control Illuminated Solar System you can explore the wonders of the universe from the comfort of your own bedroom! This amazing Remote Controlled, motorised mobile has eight detailed planets that actually orbit the full sun. Simply assemble the planets onto the three independent orbit mechanisms on the sun and mount to the ceiling with the included fixings. Once mounted onto the ceiling the solar system is 85cm at it's widest point."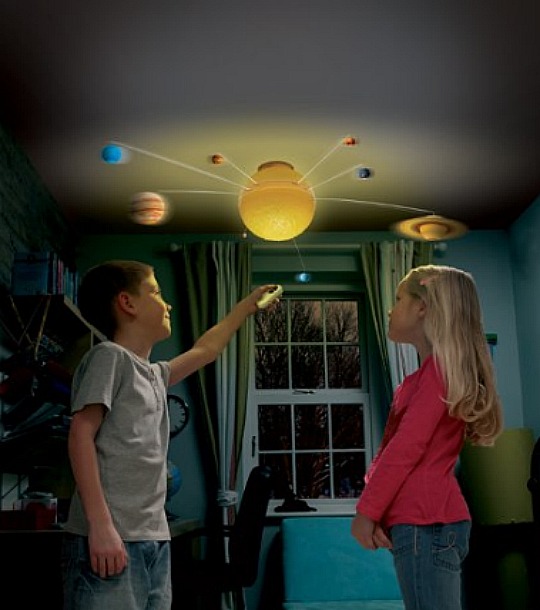 All the fixings for mounting it to the ceiling are enclosed in the box but the batteries are not, so you will want to stock up on those as it's the sort of item that is seriously frustrating to have in your hands but not be able to play with properly. It requires 3xAA batteries and 2xAAA batteries and it's probably worth investing in spares. Ours haven't yet run out but I reckon it will use up batteries pretty quickly, and wind up unused and gathering dust if you don't have spare batteries to hand for when that time comes.
There's also an accompanying educational booklet for helping kids learn about the planets - but to be honest my kids were more interested in the other Brainstorm products which are pictured on the back of the booklet! To really make the most of this item and retain the interest of kids I think you'll need to refer to another book or even the internet for information about the solar system, as the booklet isn't really written in language suitable for kids. I found I had to read the booklet and then try to paraphrase it for my kids but they would have enjoyed it more if they'd been able to read the booklet for themselves and apply what they were learning to the model solar system as they made it work.
This product is intended to be mounted onto the ceiling. Fixings are included but it does involve drilling holes in the ceiling, so it's the kind of item that can cause a bit of frustration if you're not ready, willing and able to set it up immediately.
It's a bit fiddly to set up - an adult definitely needs to do it but once you've set it up it's easy to operate, and it seems fairly robust. The smaller planets do pose a choking hazard though so ensure little ones under three aren't about when you open it. It's really suitable for children aged six and over.
This looks pretty impressive when it's mounted to the ceiling and fully-operational, and it was of particular interest to one of my children who was learning about the solar system at school at the same time. It might get a bit neglected once kids have seen what it can do and how it works, but even when the novelty value wore off my kids still enjoyed having it as a night light during their bedtime reading, It's also an impressive room centrepiece to show friends when they come over to play. That said, it didn't exactly encourage my children to lie down quietly and go to sleep so a bedtime!
Pros: It would make a fab feature in a bedroom decorated with a space / solar system theme, and it's a brilliant gadget for budding astronomers or kids who are learning about the solar system. It works as a pretty decent night light too.
Cons: It has to be permanently attached to the ceiling which might interfere a bit with existing light fittings, and it can cause a bit of excitement / distraction at bedtime.
Overall verdict: It's a bit of a luxury item at £35.00 and since it may lose some of its novelty appeal once kids have initially seen what it can do it's not something I'd rush out and buy for any child - but I think it would make a pretty exceptional gift or special treat for a child who is particularly keen on astronomy.