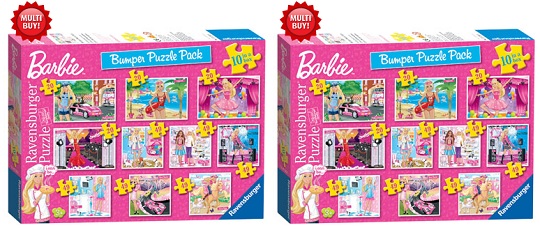 Another fabulous Christmas gift store. Smyth's have a whole range of two toys for just £15 including this box of ten jigsaws. Normally £9.99 when you buy it individually, you can now get it plus another toy for £15 at Smyths. Standard shipping is free for all Great Britain orders over £39 and £2.99 for all orders under £39 (excluding orders containing large items). Standard shipping takes three to five days.
Smyth's Mix & Match two for £15 deal is going to make your Christmas shopping a breeze. They have loads of toys to choose from – books, DVD sets (Disney animal friends, princesses, boys 'Cars' and 'Toy Story' collections), bumper jigsaw sets (Dora, Bob the Builder, Princesses) as well as the most extensive 'One Direction' collection I've ever seen!
Since Barbie is practically a religion in my house, this Barbie 10 in one jigsaw collection caught my eye. It contains 6 x 49 and 4 x 20 piece puzzles of your little girls' favourite Barbie characters. Keep her entertained for hours this Christmas!