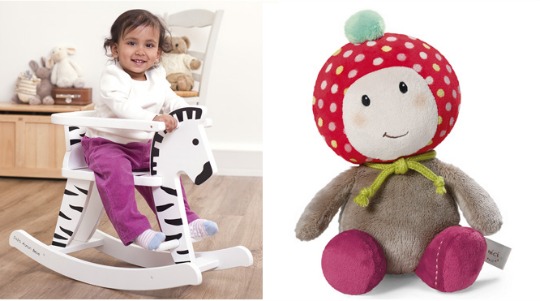 JoJo Maman Bebe are advertising further reductions on their Sale, but from a good look through the only big differences I can see are on the toys. The Sale reductions were really good to start off with so that there is only a fraction of the original sale items still in stock, especially across the clothing ranges. The toys do have less lines available too, but what there is has been reduced again, and with the Free Delivery on everything this makes some of them really good buys.
The Malia toys are really cute and original looking 'dolls' that are suitable from birth, so would make a lovely gift for a new baby. They have all been reduced by up to 60% and the prices start at just £3 for the 10cm doll, to £5 for the 25cm and hanging dolls, and the Malia Pull Along Pram with Doll is only £12.
There are a few other baby gifts also reduced, now from £5, but the other highlight for me is the Zebra Rocker. It was originally £59, then was put in the sale at £25, but is now only £20 including delivery. This looks like a really sturdy wooden rocker, that is suitable from 18 months, with a support bar that can be removed to make a standard rocker as your toddler becomes more stable and confident. It looks like a great price to me when plastic ones don't cost much less than this!
Stocks are getting low on some items, so if there is something you have your eye on you might want to grab it quick. Standard UK Delivery is free on all products with no code needed.