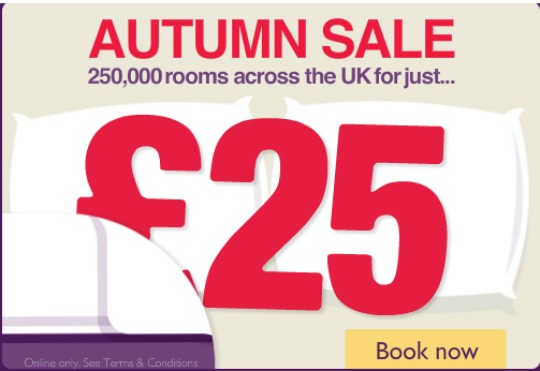 Do you fancy a wee getaway to break the monotony? Premier Inn have launched their Autumn sale today, with rooms from only £25. There's 250,000 £25 rooms, 1,000,000 £29-£49 rooms and 25,000 Central London rooms priced at £59 to £99.
There's lots of hotels included,  so get on over to see where you can visit.  The Autumn Sale offer is available for stays from Sunday 2nd November 2014 to Sunday 8th February 2015 inclusive and must be booked by 23:59 on Sunday 7th September 2014. Payments are taken at the time of booking. A tip, don't use a credit card to avoid a £2 add on fee.
Think about Christmas shopping breaks, Edinburgh has a lovely market in the festive months that is certainly worth a visit. Bicester is home to Bicester Village, a must for bargain hungry shoppers who are after that designer steal.
York is a firm favourite with myself and many of you out there. There's plenty to do for the whole family so why not treat yourselves by this affordable method.
Use the link above and get searching for that destination and see if you can find a £25 room.