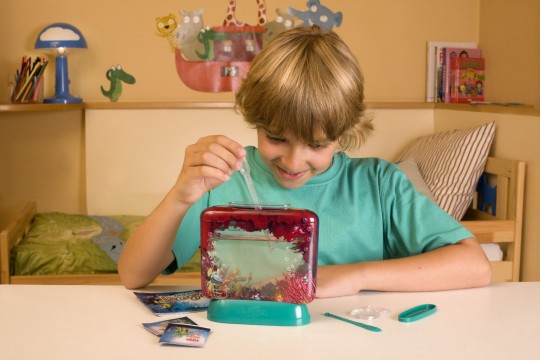 We don't have a Montessori school near us, so since my daughter was small, I've read everything I could about the Montessori school system for children. One of the things they encourage from early on is having pets, so that we got a fish tank.
A fish tank is a great starter pet, but the tank, pump, light, filter, and all the other little bits can really add up the costs, so if you're looking for a cheaper alternative that's easier to maintain and can really engage the children from the get-go, the Aquadragons from Brainstorm Limited.
Aqua Dragons are real live aquatic creatures that you can hatch and grow at home. Their scientific name is Artemia Salinas, and they have been living in the sea and salty lakes for millions of years. From the crustacean family, Aqua Dragons look like tiny three eyed, long tailed, hairy headed dragons that grow up to 2cm long. Their eggs have an amazing capacity called cryptobiosis which means they can dry out and stay alive only to hatch many years later. Tests have found that eggs kept in air sealed containers for up to 20 years still hatched when they were returned to water.The Aqua Dragons line of products enables children and animal lovers of all ages to hatch and grow a generation of these amazing creatures at home. Underwater World contains everything you need to get started including the aquarium, preserved eggs, food, pipette, feeding spoon and full instructions.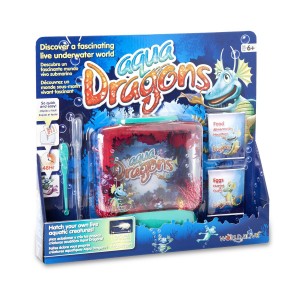 It's the simplest set up you can imagine too. Pull the plastic cover off - it's glued to keep everything in place, no crazy ties. Fill the aquarium with filtered water, and the critters hatch in just a few days.  Although this depends on the weather outside. They say three days, but I put them by our fishtank to get some residual heat from the fish tank heater.
Although the dragons hatch quite quickly, they are teensy tiny, and not even the magnifying glass supplied helps much. You need to wait around a week till you're able to see them.
For food, there's a supplied bag of food with a little feeding spoon. I was worried initially that there was only a teeny amount of food, but you really only feed them a very small amount. If the water gets cloudy, you're overfeeding, so it's a pretty easy thing to gauge. You can also buy additional food on the website, so that's easy enough.
The pamphlet that comes with the set includes a chart where you can learn about the life cycle and anatomy of the creatures while you watch them hatch, grow through the naupuli stage to adults, eat, play and reproduce.
Unfortunately our dragons didn't last long. The batteries for the light didn't last very long  and in trying to change them, I managed to tip the whole thing over and send our Dragons down the drain. Cue sad babies. We'll have to start again in the spring, I think.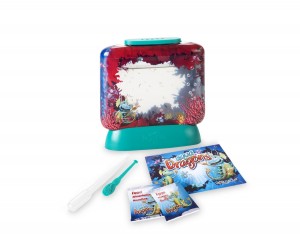 The Good
It's really easy to set up and get started
It already comes with batteries, although the literature says you need batteries. Just press the light button to double check.
It's an amazing learning experience for little ones, and a great way to get them used to being responsible for a pet.
The age on it is 6+, but my four year old loves it. The only reason I'd agree with the age is because of the tank itself  -I'll get to that in a minute - but even my one year old likes watching the water dragons.
If you can put them in a child's room securely, they make a lovely night light.
The Bad
I wish the tank was better thought out and the instructions a little more helpful. The tank doesn't have a seal top - so if a child were to tip it over, you'd have Aqua Dragons and water everywhere. It's just too small to be secure if you have smaller children in the house. Also, a better way of changing the batteries: maybe a side panel or something.
Also, the literature isn't very explanatory for the basic instructions. For example I only realised that the squishy thing was an aerator by reading reviews on Amazon.
The packaging has an animated, friendly little dragon-thing on it, and I think my child expected the dragons to look like that, rather than just the relatively plain critters they actually are.
The Verdict
I think these are fantastic. They're a low maintenance 'pet', with low continuous outlay - there's the initial fee, and maybe once or twice a year you may have to buy more food, but that's it. The children are really engaged by it, specially since it changes so quickly. Overall, an excellent bonding thing, and a fabulous Christmas present.