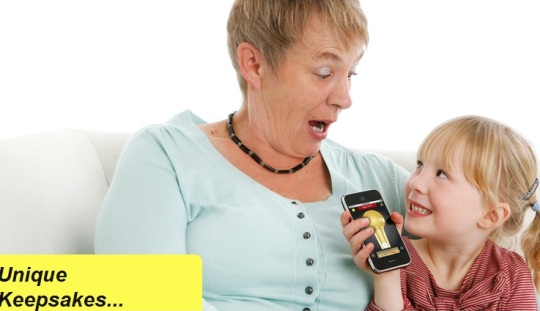 Usually I'm not a fan of elitist apps. I have the Android and the iPad tablets and like it when an app can work on both systems. However, this is such a cute and cheap idea for a Christmas gift that it is worth mentioning in this post.
Record Their Stories is an app that lets you record stories (hur hur) about your life and times to share with friends and family over Christmas. These tales, be they unexpected and funny, anecdotes shared by grandparents, fun memories from friends, these can all be recorded for eternity.
The app has a built-in edit suite and more than 100 scrollable questions to help keep the conversation flowing. You and your kids can create special recordings for someone special this Christmas, or you can record your own Christmas dinner this year! Then you can listen to it whenever you want, or whip it out next year for everyone to enjoy.
There is even an option to turn the recordings into a special Christmas gift by uploading it to the site and then their team will whip it into a professional recording complete with music and sound effects. Those are a lot more expensive though…