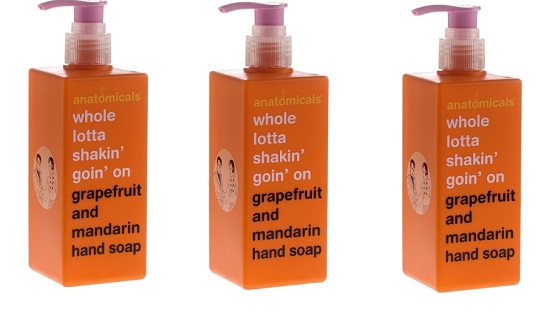 I love a mad product, I do. I love things that can make me laugh while doing their job and Anatomicals have stepped in and done just that. This quirky bathing range is now available at Tesco* and is priced at a very tidy £2.49 for the hand soap range.
You can get Silly Twits Ignore Their Mitts Peppermint and Lemon Hand Soap or Whole Lotta Shakin' Going On Grapefruit and Mandarin Hand Soap. I chose the latter. I adore the smell of grapefruit and the smell of mandarin, but I'm not big on the whole peppermint thing.
As you can see from the picture, the range is bold colours with simple prints and plenty of value for money. The Grapefruit and Mandarin Anatomicals bottle is a very healthy 300ml and, for that price, I am impressed. What's also very, very impressive is the fact that the entire bottle is recyclable. It even comes with a superhero and a funny message:
Is it a bottle? Is it a tin can? Is it a cardboard box? No, it's Recycleman. And if you don't recycle all our packaging, he'll track you down and recycle you.
Brilliant.
I'm not going to lie here, the smell is delicious, but only if you like those smells normally. They are not overpowering, though, and the actual lotion isn't too drying. A lot of the scent disappears after you've washed your hands, it doesn't stick to your skin. A part of me is a bit sad about that, but every now and again you'll get a whiff that's very light and fruity and that I do like.
I have very sensitive, dry skin on my hands that is very fussy and it did get dry using the Anatomicals hand soap, however, not as dry as the brand I was using before hand, so this has replaced it toot sweet, and the smell is great. I would easily give this 10/10 for pricing, smell, recyclability, personality and quality. In fact, here is the Worth Every Penny Award. I'm definitely going to try other products from the same brand.
You can find Anatomicals in Tesco now but not online, only instore for now. Keep checking though, they'll soon be online. I recommend these as perfect for the Christmas stocking filler or sweet little Christmas gift.