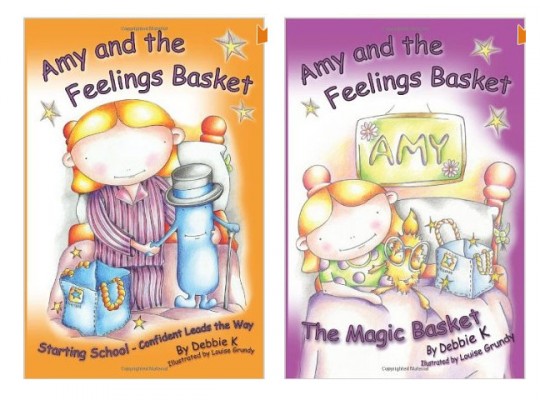 Dealing with children and their huge range of emotions compassionately can be incredibly hard in normal day to day life. I know when I'm stressed with deadlines or late for the pre-school run, taking time out to talk to an upset child who may be feeling uncertain or afraid about something doesn't always happen, yet the experts tell us that we should help children deal with their emotions.
We recently received two Amy and the Feelings Basket books - The Magic Basket* (£4.99) and Starting School- Confident leads the way*, and I've been reading them to my four year old.
Amy and the Feelings Basket is a book by Debbie Kinghorn an NLP Child Therapist and  Learning Practitioner, and illustrated by Louise Grundy.
This series of books, predominantly for ages 4 – 8, includes stories with emotive topics such as the arrival of a sibling, starting school, facing up to bullying and other events that are pretty huge in a young child's life.   The books encourage children and parents to explore these difficult topics together.
The Magic Basket, the first book, opens with Amy crying on her bed because she doesn't want to become a big sister. Her mother brings her a piece of cloth, which opens up into a blue magic basket. Amy puts her hand in the basket, and out comes a feeling - curious - who guides her through how to explore her feelings. Being curious he asks her what she was doing when her mother came in, and next thing you know, another feeling - sad - comes into play. Curious and Sad help explore her feelings of worry about why her parents want another child, and help her realise that maybe they're not trying to replace her, but 'add to' her. It's a really lovely message, actually.
In Starting School, Amy deals with the prospect of starting a new school.  Confused and Confident help her prepare for the big day, and everything works out.
My daughter has made reference to these books a few times in the days following us reading them, and has placed things that have frustrated or confused her in terms that are very clearly from the books, so I know that it has gone in, and has helped her understand not only that the feelings she feels are normal, but also how to deal with them in some instances. It's also provided a platform for discussing feelings that we haven't covered in the books, like anger or impatience.
The website also provides additional resources, including colouring and activity pages.
If your little one has something big coming up these could make a lovely Christmas gift, especially if you make the time to read through them together.