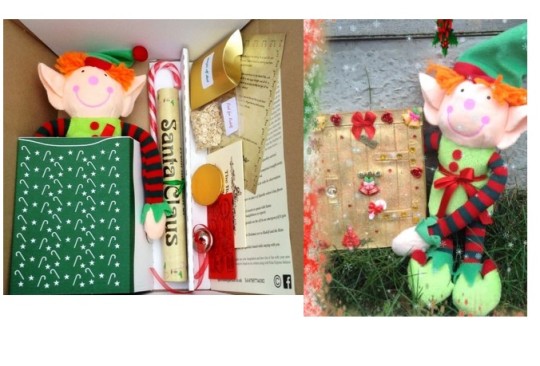 Opinion on the Elf On The Shelf is quite divided, and loads of people find the elf itself quite creepy - I've heard references to Chucky more than once! I love this 'rag doll' version of the Elf on the Shelf myself (and I'm loving how many words rhyme with elf too ;) ). For sale on eBay, the SPARKLE Elf on the Shelf is £13.99 with extra for delivery, it's £17.19.
This Elf on the Shelf comes in a gingerbread style gift box with a little bed inside for him to sleep in which also has a santa message tag on top so you can write a name on it. It measures 30cm tall from his toes to the top of his hat, and he comes with glossy paperwork which includes letters from Santa, explaining his arrival, a passport, behaviour notes, if you choose to use those, and a leaving letter for when he has to go back to the North Pole.
It also comes with a jingle bell in case of emergencies, magic elf dust and reindeer food, and finally candy cane and a gold coin to pay for his accommodations. There are also instructions for the grown ups.
Sparkle has Velcro hands for  hanging around and holding him on to stuff too.
I think this is a great alternative for those who think the other elf is a bit creepy!