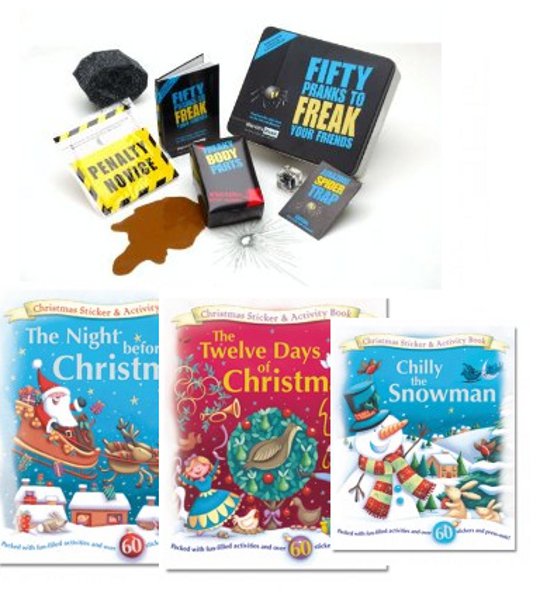 Apart from food, Aldi often offer seasonal specials, and at the moment, they have some great (and some not so great) Christmas activities and entertainment kits for children available. We've been reviewing four items from Aldi's Christmas range for the last few weeks.
First out the box was the Marvin's Magic 'Fifty Pranks To Freak Your Friends' kit.
It looks like fun, and at the top of the neatly packed box is a sponge thing – I later found out was meant to be a rock – and a book with fifty tricks you can pull.
The contents of this set are, in my opinion, seriously hit and miss.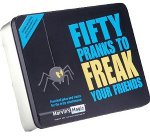 There's the sponge rock that doesn't look like a rock at all, and an ice cube with a definitely fake spider in it. I think if you saw that spider in your cup you'd look twice, but out of confusion, rather than fright.
There's a coffee stain that wouldn't fool your poor-of-sight grandmother, and the Freaky Body Parts box with a whole for your 'severed' finger is really only going to work on severely intoxicated people, unless you go to the effort of filling the box with 'bloodied' cotton wool and painting your finger an offish green.
The Spider Trap is pretty cool though – it's a disk on an elastic that you wind up and place in an envelope. If someone opens the envelope or picks it up, the disk spins round, and it feels like there's a bug inside. It's quite fun, but short lived.
The only two things in the tin that are worth it, are the 'Penalty Novice'. That actually made me laugh. It looks just like a penalty charge notice – dratted things – and it gives you an £800 fine. But the fine can be reduced to £50 if you pay in full "within 7 days of the date two days after the last quarter of the first date on this Road Traffic Fifty Fifty Penalty Charge Notice." That sounds about right then!
The other thing is a the cracked screen or window sticker. It's just real enough to give your victim that sinking feeling, but without a heart-attack (I hope) as the slightest investigation will show it to be a sticker, especially since the edges are quite pronounced.
Both those items are great and almost make the kit worth buying, but honestly, at £7.99 I'm not sure I'd buy it with my own money. Especially since they're meant to be for kids 8 years and over – it could be fun for a four year old to 'trick mummy and daddy', but I don't really see it being much entertainment for tweens.
The sticker books from Aldi are, however, a different story. They are great.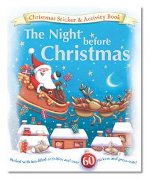 We received The Night Before Christmas, which starts with the poem on the first page, and your first activity – finding the missing stickers. The second page has another sticker activity, gives you the opportunity to write down what you want from Santa and to draw mince pies. There follow a few similar games – dot to dot, spot the difference, identify the wrapped presents and so on, and then a Christmas Cookie recipe, and pop-out Santa and Reindeer. The second half of the book contains more games, a step-by-step guide for making Santa decorations and Santa Christmas Cards. All this and over 60 stickers – the only thing it doesn't have is an age-range, but I would imagine around four or five? Some of the games require a bit of logical thinking, and elimination skills.
I really like these books – and with an RRP of £4.99, Aldi selling them at 99p is a serious bonus.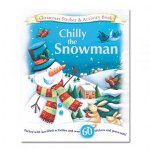 The book Chilly the Snowman follows a similar structure, but along a snowman theme. The activities include making a Snowman Paper Chain, a really sweet pop-out Christmas Scene, a recipe for Coconut Snowballs and a Snowman Gift Tag step-by-step guide.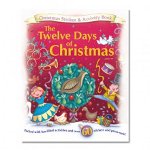 The final activity book we received was The Twelve Days of Christmas, starting off with a counting exercise – you know the song! – a 'moving pictures' craft activity and a decorative dove or dancing maids to make. There's a board game styled game in the middle of the book and brilliant bright and bold Christmas decorations to pop out, all fitting the theme.
There's another activity book in the series, but we didn't receive Santa's Sleigh. I will, however, be popping in to Aldi to pick one up, as they are brilliant. They're beautifully illustrated, look like expensive activity books, are full of fun solo and joint activities and I think they'd make lovely gifts – even before Christmas, to keep you busy leading up to the day. I have half a mind to buy a spare set to go in the 'rainy day' box.
I can't believe they're only 99p each, and I would spend my money on them ten times over, quite happily.
So the Prank Kit gets a:

but the Igloo Activity Books get thumbs up, A++ and 3 times:


from me.