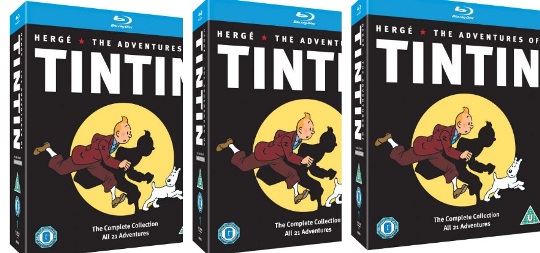 This is an excellent price for the entire Tintin series on Blu-ray for only £14.99 and costing £16.98 with delivery charges included. Usually the entire Tintin series retails for around £59.99 so this is a whopping bargain for an ace Christmas gift.
Tintin is the world's most famous boy reporter and with his faithful (and smart) dog, Snowy, at his side, he gets involved in all sorts of crazy adventures. I am delighted by the Tintin madness that's going around at the moment, I loved Tintin as a kid. Who doesn't have a soft spot for billions of blistering barnacles Captain Haddock?
The box set here consists of one disc with all the episodes on it along with the usual cast of colourful characters. There's Thompson and Thomson, Professor Calculis, Oliveira da Figueira and many more. This Blu-ray will definitely be a hit with any young one who likes adventure and laughter.
Thanks to Jonny Barton at HUKD!