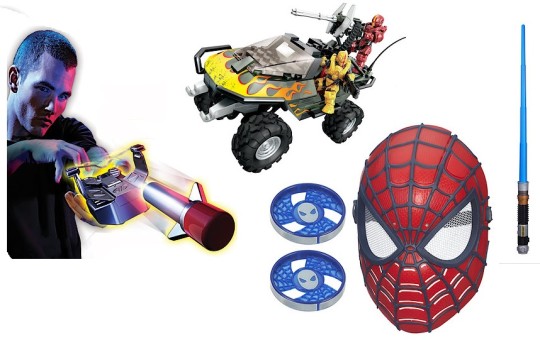 The Entertainer has a sale online only this weekend on 'action toy' stocking fillers. There's actually only six items in this category, but lucky for you if you're looking for something Spider Man/Star Wars or Spy-ish. Deliver from The Entertainer is £2.99, and click and collect is free, though it's worth noting that it can take up to 5 days due to huge demand at the moment. If you're thinking of Christmas, however, that shouldn't be a problem.
The Spy Gear Spike Mic and Launcher* is a great price at £5, apparently reduced from £25.  This high-tech gadget shoots a special dart with built-in microphone which you just aim and fire at any flat surface, then eavesdrop from up to 15 meters away!
Light Sabers are reduced to £7.50, and there are three to choose from.
The Mega Bloks Halo UNSC Flame Warthog* is reduced to £10, also from £25, and with a 360° rotating turret and working suspension, the 'Hog's is used for scouting and reconnaissance.
The Amazing Spider-Man 2 - Spider Vision Mask* is reduced to £12.
Press a button to activate the mask's unique vision mode and then throw a web disc into the air.  The disc will then fly through the air with an amazing spider glow. Just the thing for taking down a criminal!
These should be good for Christmas day fun!