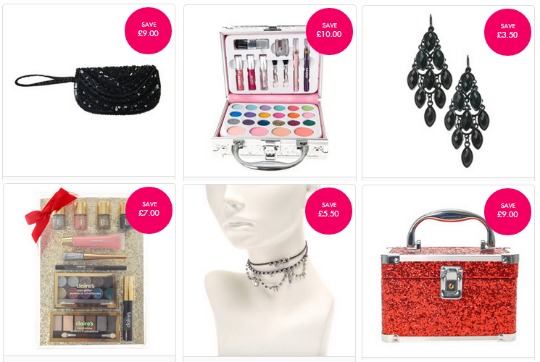 If you have bought yourself some gorgeous goodies from the Accessorize Sale that Nada told you about this morning, then you can also pick up a few bits for the kids from Claires in their sale too. The Sale is supposed to be up to 75% Off, but I found a few items at 95% Off. (If you are a Bieber fan you're in luck)
There are thousands of things in the sale, with prices as low as 25p (headbands and Bieber stuff). There's Claires usual mix of jewellery, hair accessories, gifts, stationery, make up, bags and so on, with most of it at least half price. To help you choose from the masses of things on sale you can filter by recipient, age, occasion, price or brand, otherwise it's going to take you a very long time to look at everything!
This is not one of those sales where 'up to 75% off' means only one thing has that discount - the majority of the sale seems to be at least half price, with a sizeable chunk of what I looked at being reduced by much more. If your kids have been given money for Christmas or there are any birthday's coming up then you could grab a few things for a fraction of their regular price. There are some lovely make up and jewellery sets that would be ideal to put away for gifts.
Home delivery is free when you spend £25, or charges are from £2.95 if your spending less. You can collect from store, but they charge £1.99 for that too.