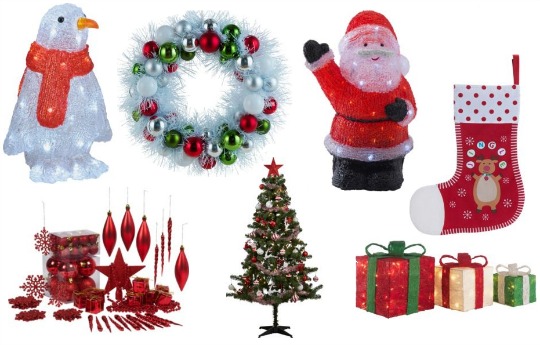 Have you got your Christmas Tree and all your decorations up yet? If you haven't then you're in luck. Argos have reduced some of their Christmas decorations by up to 70% already, and there are some great bargains to be snapped up.
There are trees, lights for indoors and outdoors, big packs of baubles, light up figures, mini trees, tree toppers, wreaths, crackers and loads more. Christmas trees and baubles do get reduced in December obviously, but it's still fairly early for such big price cuts, and these are the sort of reductions we're used to seeing after Christmas.
If you still need a tree then there is a 6 Foot Pre-Lit Christmas Tree* reduced from £49.99 to £19.99, which is amazing value considering you don't need to buy lights to go on it. To spruce up your tree (see what I did there?) there are big boxes of Baubles and Tree Decorations* reduced by up to 75% starting at £3.99.
Christmas lights is my husbands thing, and he likes to add more and more each year. We've had to re-think our indoor lighting with our mischievous toddler, so I expect outdoor lights is the way forward. There are lots of novelty lights*- penguins, snowmen, santas, candy canes and more that are being browsed through at the moment. I love the Christmas Parcel Lights*, so I'm trying to push them towards those.
My eldest son has a mini Christmas Tree in his room, but there are little ones starting from £4.99 at Argos, so the youngest might end up with one as well!
It's Argos, so stock levels are hit and miss as always, but if you're lucky you could get your house looking festive at a bargain price. (Electricity costs for all those lights are another thing...)