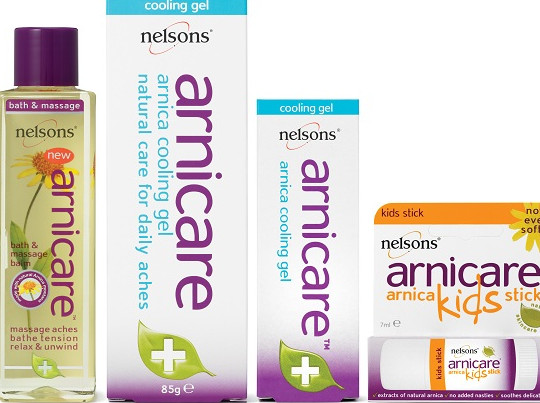 I've been sent a set of items from the Arnicare range from Nelsons to test on the everyday scrapes and accidents of a life with two children.
I really do like Arnica – I know it's used commonly for bruises, but Arnica actually has some fantastic healing properties and can be used for a lot more than just bruising and is especially good after surgeries and so on. We also use it for muscular injuries and shock too. It would make a great stocking filler or a top up gift, especially if someone needs some TLC or if you were filling a bag for a new mum or baby.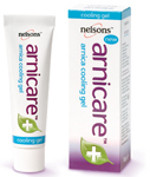 The first item I had cause to use was the Arnica Cooling Gel. I love baking and cooking, but I'm unfortunately accident prone, and it's rare that I'm not reaching into the freezer for a cube or ice to calm a stinging burn on. Icing my daughter's birthday cake, I managed to drip some of the boiling sugar for the glaze onto the triangle of skin between my thumb and forefinger. It was bitterly painful, and two weeks later there was still a blistery scab to be seen! Rather than reaching for the ice cube, I popped on some Arnicare Cooling Gel and within minutes I'd forgotten about it. The sting was gone, the pain was gone – just the blister and scab remained for a long time. This gel isn't actually advertised as being for burns, but in the moment, it seemed the right thing to do, and it certainly worked.
The gel is a clear liquid with a strong grapefruit smell, due to the grapefruit and menthol oils that are in it. It is an alcohol based gel, and when -I tried it as a hand cream (I like the cooling effect) it dried my skin out quite a lot, but clearly, that's not what it's meant for.
After a long day on your feet, or a sore body from picking up children, or bending down to pick up toys, or running a marathon or whatever it is you do that puts strain on your muscles, this is lovely.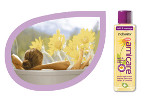 After a day spent baking and preparing for the same birthday party I was knackered. We had a beautiful time, with so many old and new friends coming I spent the entire time on my feet making sure everyone was well fed and watered. By the end of it, however, I was ready to fall over. I got home, and my hyper excited toddler crashed out. I thought that might be a good time to have a soak in the bath with some Arnicare Bath & Massage Oil.
This was amazing. The oil in the bath was nice, it smelled nice and I was relaxed, but what swung it for me was getting out of the bath and giving my feet a light massage. It really is gorgeous. There are different scents available, and I received the lavender. Seriously, close your eyes and you'll think yourself in a lavender field somewhere far away in Scotland. It is just a stunning aroma, rich and intense. The oil itself is deeply moisturising. It uses helianthus annuus seed oil (in other words, common as mud sunflower seed oil, which is what we recommend for babies in massage classes!) as a base or carrier oil, and lavender, arnica and intensely healing calendula for therapeutic value.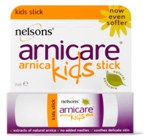 It leaves my skin feeling so soft and whether it's just the act of taking a break, the physical act of massage, which stimulates blood flow, or the actual lotion that leaves you feeling relaxed and improved, I don't know, but I think a combination of the three definitely does something valuable.
Finally, we've been testing the Arnicare kids stick. Now, this is a perfect example of companies listening to consumers. I bought this once and after the first use, never even looked at it again. Sarah reviewed it about a year ago and had the same complaint about it that I did. It was so hard that rubbing it on a recent 'ouch' is just not going to happen.
When I received this to review I was non-comittal, didn't look at the packaging and just opened it. The very first thing I noticed was that it was super soft and smooth! I actually used it as a lipbalm for a couple of days because my lips were dry and I didn't have anything else suitable.
The Arnicare kids stick is a hand bag sized stick that you can keep with you and pull out to use whenever your little ones have cuts, scrapes, and falls, and this will prevent bruising and stimulate healing. And for the critics, even if it didn't, if your little one believes it will 'fix' them, that's half the battle won!
The Good
Well priced, good products that do what they say they will
I love that they've clearly listed to customer feedback and improved products
The massage oil is relaxation in a bottle
The Bad
I don't like the Latin names in the ingredients list. Just tell us what's in it – no need for secrecy.
The Verdict
Do I like it? Yes. Do I use it? Yes. Would I buy it? Yes. Do I keep it with me/accessible? Yes. If I can reach for something topical that works and brings relief, I always do, so these are right up my street.