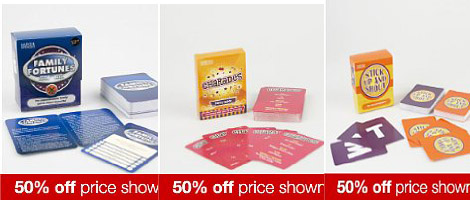 The sales appear to be happening before Christmas this year, and M&S have popped a load of games, puzzles, fragrances and beauty products into a half price sale. You can nab some lovely Christmas stocking fillers and extras thanks to these low prices.
Games range in price from as little as £2.50 and include Charades, Family Fortunes, Egg Heads, Stick Up & Shout, Disney Family Trivia, Crazy Cuts, Thoughts & Crosses, Bah Humbug, Bank or Bust and Xmas Games.
M&S also have a 3 for 2 Christmas shop, 30% off selected women's clothing and 25% off champagne, so you're bound to find an item or two that captures your fancy and makes your bank balance smile. Certainly the board games will come in handy over the cold winter months.
Next time you're snowed in, you won't be left with bad TV as your only company as you whip out your (now) enormous collection of board games and have some wholesome family fun. Or fights, our family always fought…
Thanks to Hayhloo at HUKD!