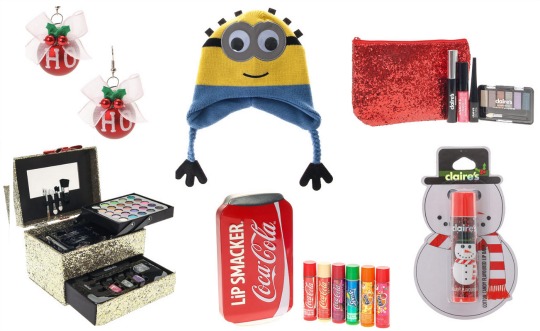 We're going to mention stocking fillers again! Claire's have a one day only deal to get all gifts at 50% Off, and seeing as that includes nearly 700 things to choose from you should find a few bargains there!
Some of the most popular gifts are some really great looking make-up gift sets, which would be great for any teenage girls you still have to buy for. The Minion hat and gloves are selling really fast at half price, and the Christmas themed accessories are amazing value - they start at just 63p!
I love the idea of the Christmas Lip Balms - gingerbread or yule log flavour anyone? At only £1 each I'd try them both!
There are also jewellery sets, soft toys, bags, diaries, photo frames, slippers, hair accessories, stationery, hats and so many more things. If you have any girls to buy for then have a quick look. You get Free Super Saver Home Delivery when you spend over £21, or it's from £2.99 when you spend less than that.