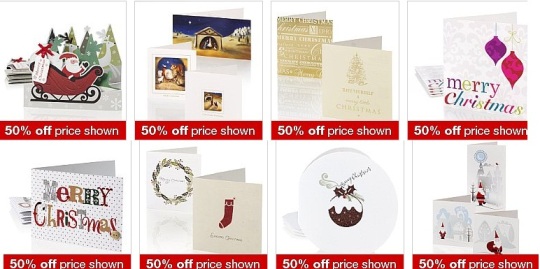 M&S has a special offer on their Christmas card multipacks where they are currently selling them for half their usual price. This is rather brilliant when you consider that Christmas hasn't actually arrived yet and you'd only expect cards and sundries on sale from January!
The 50% off multipack Christmas cards offer appears to be only for this week, although I can't find any confirmation either way. There are a lot of different styles of Christmas card on offer here as well so most types and tastes are accounted for.
With the 50% tag, many of these packs that usually cost around £4 are down to £2, and the ones that cost £2.50 are down to, well, half that and very little indeed. The luxury packs are really the best buys as they cost only £2.50 instead of £5.
I really like these Christmas cards and, seeing as my current batch is already used up, I'm definitely going to be nabbing some of these today.
Thanks to lynn44 at HUKD!