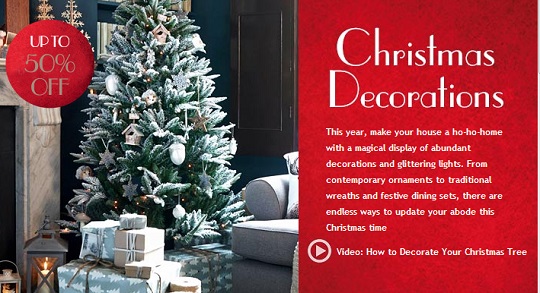 It does seem a tad odd to have a Christmas decoration sale before Christmas has been and gone, but House of Fraser appears to be doing just that. Running at the moment is a 50% off sale at House of Fraser on a range of Christmas décor that will make you drool with delight if you are a Christmas person.
Click here to get decorated at House of Fraser*
So, the sale includes room and tree decorations, Christmas cards and wrapping paper, Christmas tableware, Christmas lights, Christmas trees and Christmas crackers. These are further broken down into trendy looks such as Woodland Charm, Frosty, Looking Glass and Prism. I find it hugely amusing that Christmas décor actually has trends. How sad.
Whatever your predilection, there is something here for you and, with up to 50% off, you can save a bundle on epic decorations that you can use year after year. Nice one.  I do find it very funny that they actually have a video tutorial on how to decorate your Christmas tree. Hahaha.