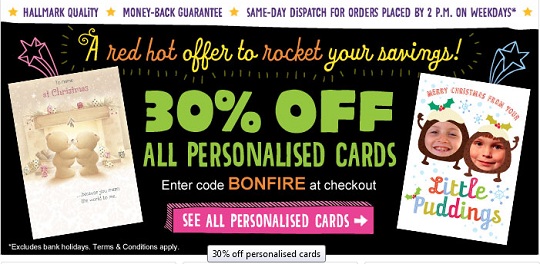 Personalise your Christmas cards this year with Hallmark thanks to this ace special offer that's running at the moment. They are offering a 30% discount on all personalised cards until 23:59 tonight (4th of November) with free delivery on orders of 20£ or more. So HURRY to take advantage of it!
Hallmark has a huge range of personalised cards for children and adults. There are cute puppies, Tinkerbell, Buzz Lightyear and so many others to choose from that you'll definitely find a card for every taste. There are also cards for any occasion, Christmas, birthdays, anniversaries and congratulation cards - so maybe plan ahead and nab some Birthday cards or anniversary cards at the same time?
Do something different this year and personalise you Christmas cards with pictures of the family or pictures of the kids for Granny and Grandpa and do it today or you'll lose this special offer of 30% off. The voucher code you need to get your discount is BONFIRE and you have to enter it at the checkout.