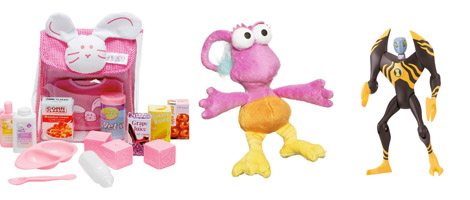 This is an awesome deal to pop up just before Christmas. Here you have 206 pages of toys, all of which are included in the 3 for 2 offer with Tesco Direct. The cheapest item is free (as per usual) and the entire promotion ends on Sunday 12 December, so get started!
I was taken aback by the first toy on the list – a Selwood Sheridan Playset for (wait for it) £1,899.97. I imagine that all the other items you buy after this one will be the free ones.
Seeing as Tesco are selling every single toy they own in this deal, it is kind of hard for me to tell you everything that's on offer. Prices range from as low as £3 to, well, as high as nearly £2k. It's all about budget…
There are CBeebies branded items, Toy Story 3 toys, Mecchano sets, Ben 10 and the Wot Wots, The Very Hungry Caterpillar merchandise, baby toys, dress-up toys, making toys, educational toys and so much more.
Prepare for a long time searching through them all and happy savings!
Thanks to pinkyjo at HUKD!