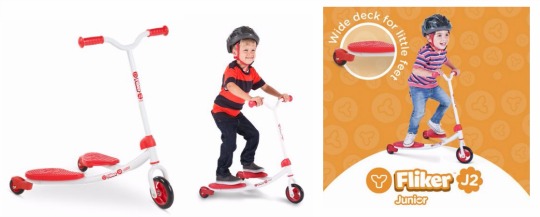 I love these scooters, I visited a toy shop the other day and myself and my daughter were trying them out, they are a real abs workout! We had so much fun on them as they do take some balance and coordination, neither of which I possess! If these cool scooters are on your little one's Christmas list, you will be pleased to know that at Argos right now the Yvolution Y Flicker J2 Junior Scooter in Red currently has 25% off the original price of £39.99. It is down to just £29.99 but is sure to sell quickly, as they are pretty popular right now.
These scooters are suitable for children from just 3 years old, this is down to the innovative, patented three-wheeled design which helps and encourages novice riders gain balance and enable them to scoot easily. The way to make this scooter move is by wiggling your hips, it is slightly different from a regular scooter due to the 3 wheel aspect. It is lots of fun guaranteed!
It has soft rubber hand grips, large solid wheels (great feature as means no marks on the floor!), steel tubing, multi-directional motion, wide non-skid foot plates and a centre bar that provides extra stability for younger riders. What a great Christmas present this would make!
Home delivery starts from £3.95 or you can choose to Reserve and Collect from your local store, stock depending.