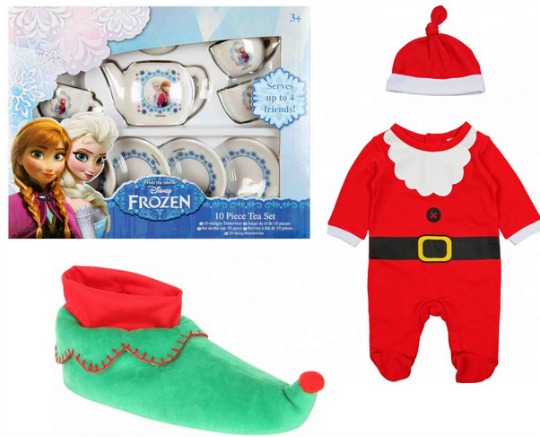 Oh here's an offer that'll help you out with those filler items for Christmas. Peacocks, which to be honest I thought had diminished completely from the High Street, has 20% off EVERYTHING. That includes sale items and any others on offer, plus they have reduced their delivery charge to just 99p as the event runs. There's heaps to choose from including lots of nice novelty Christmas wear and even some Disney Frozen items.
Looking for some affordable Disney Frozen bits for those stockings? Check out this Disney Frozen Tea Set* for just £3.20. I can assure you that boys can use it too, even though it's in the girls' section. This Elsa dress* doesn't quite match up to the quality of one from the Disney Store, but at £12, are you caring?
What's there for the boys? Nothing too impressive, but I do think these Elf Slippers* are pretty good for just £4.80. As is this baby boy Santa Suit* for just £5.60.
Remember, delivery is only 99p this weekend so make the most of it . The 20% is on for this weekend only so get those bargains NOW!