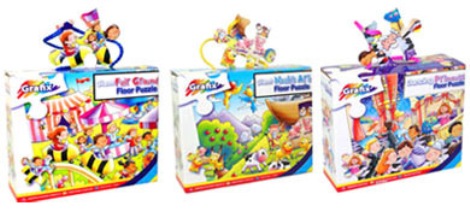 Here is an awesome Christmas gift pack. The Toy Shop are selling twelve assorted children's puzzles in one big bumper pack for only £12.99 (that's almost £1 a puzzle!) and, if you use the voucher below, you can get even more off that price.
The twelve puzzles are each individually boxed with different themes and pictures. If you were a cunning sort, you could divvy them up into stockings across your whole family and still have some left spare for journeys, birthdays, and unexpected present requirements.
The puzzle themes include Princess, Airport, Busy Building Site, My First 3D Football puzzle, My First 3D helicopter puzzle, My First 3d Jungle puzzle, Giant Fair Ground, Giant Noah's Ark, Dancing Princess, Fun Fairytale, Underwater, and the Farm.
It's a whopping collection and frankly my fingers are itching to buy it! The only worry I have is whether or not people will start cottoning onto my bulk buy as every child in the birthday circle seems to get a puzzle…
Thanks to amibees at HUKD