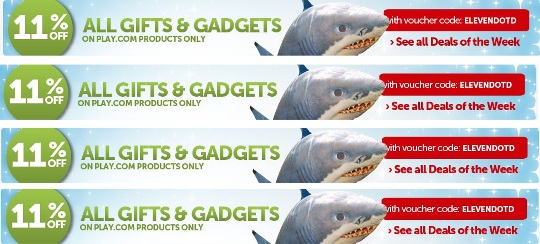 This is such a funny, silly and yet clever idea that I couldn't resist posting it really. Play.com sent me an email today telling me that they are having an 11 hot deals day that will be taking place today, the 11th of the 11th month in 2011. Possibly a lucky day? Who knows!
The deals on offer for the 11% off all gadgets and gifts are only valid until midnight tonight, so it is probably best you pootle on over there if this is of interest to you. The code you need is ELEVENDOTD in order to swipe that 11% off the gifts and gadgets. Wahoo.
You get 11% off bestselling DVDs, blu-rays, box sets, games, albums t-shirts, sportswear and more. I have already eyeballed some items and compared their prices to others of their calibre online and the discount is pulling Play down further than many of the others.
This is a good deal for possibly nabbing yourself a Christmas boxset or DVD filler or three.