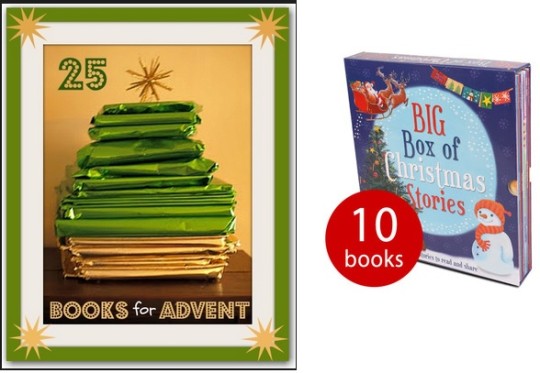 Have you seen the pictures of 'book advent calendars' that go round every year? If you've ever wanted to set one up for Christmas, the 10 book set from The Book People is £10, plus £2.95 delivery. If you spend over £10 the code TREAT10 should still give you free delivery, and if you spend over £15, the code WINGS gives you 10% off. Finally, the code  SPEND10 gives you free delivery on a £10 shop, making it work just fine on this order!
The way the book advent works is simple - you wrap up each book with a number and every day of December, you open the book corresponding to the number. Last year we went a step further and also had an activity calendar to match, so if the kids in the Christmas story went ice skating, we also went ice skating. If they made gingerbread men, so did we. Obviously I knew what was coming in advance, so that I could plan and book in advance and so on, but it was a very magical experience for myself and the kids and I can't wait to do it again this year.
The books in this set are :
Silent Night - Juliet Groom, Tim Warnes

Lost in the Snow - Linda Jennings, Alison Edgson

One Magical Christmas - Alice Wood
The Best Christmas Ever! - Marni McGee, Gavin Scott
Little Penguin Lost - Tracey Corderoy, Gavin Scott
The Little White Owl - Tracey Corderoy, Jane Chapman
I've Seen Santa - David Bedford, Tim Warnes
Is it Christmas Yet? - Jane Chapman
Grumpy Badger's Christmas - Paul Bright, Jane Chapman
Christmas With You - Julian Hubery, Victoria Ball
You may have to get creative - especially with Silent Night! But hopefully you'll be well on your way to your Book advent!
Find this and other The Book People codes over on our voucher page!