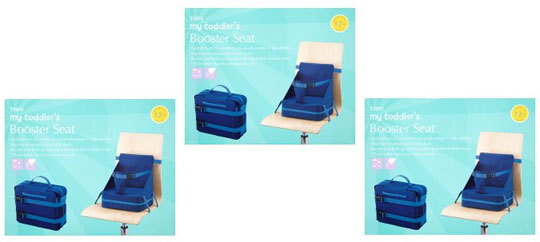 Tesco are selling this Toddler Booster Seat for half price - reduced down from £14.99 to £7.49.
If you're really tight for space at home then something like this Toddler Booster Seat can be a GREAT alternative to a high chair.  They're also handy for keeping at the grandparents house or if you go out to eat a lot - high chairs in restaurants can be a bit hit and miss.
In fact, they can be downright disgusting and the germs lurking on them just doesn't bear thinking about - I'm all for a bit of a dirt to build up immunity but even I wouldn't put my kids in the some of the high chairs I've come across in my time!
The Toddler Booster Seat is a solid seat, which opens out so you can place on a normal chair seat with straps that wrap around and do up underneath it and behind the seat back.
It's easy to clean, easy to take out and about with you, has a three-point safety harness and is suitable for little ones aged about six months old.
Just arrange to collect your booster seat from your local Tesco - it's free, otherwise you'll have to shell out an extra £3 for the privilege of having them deliver it to you.
Thanks to neanie at HUKD