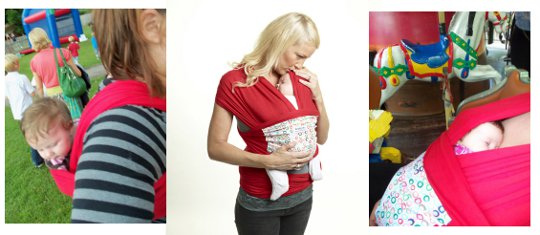 Since my baby girl was a newborn, we've been using the Simply Good Cozy Baby Wrap for wearing her while we're out and about, or even at home for those times she just doesn't want to be put down, but I still have a toddler needing my attention.
There's a lot I like about this wrap. Firstly, it is incredibly light weight. I have another wrap made of much thicker material and on the very hot days, it's just too much. With the Simply Good wrap, I've been able to for example spend the day at Legoland (in the picture above) with the baby in the wrap without 'feeling the heat' any more than anyone else.
It's a gorgeous wrap. Everywhere I go, people comment on how lovely it looks. It is well made and well stitched, and with a newborn I found it really comfortable and supportive. I even went to a conference in June and spent a whole day with her attached. While I was a bit stiff the next day from what felt like 100 miles of walking around London, it wasn't my back that hurt.
I like that you're able to wash and dry it along with other clothes, since there are no buckles or clips to contend with, and I like that it comes in a bag, so you can store it or keep it in your bag or whatever without a long strip of material coming loose.
People often comment that stretchy wraps look really complicated, but having used one now for a few months I can say for certain that it's not. It's kind of like a shoelace – once you've figured it out, it becomes second nature. Also, it comes with a DVD for full instructions of different ways to wrap a baby.
I had a look at a few of the reviews on Amazon, and I must admit I'm surprised by them. Apart from one, they're primarily negative. My only conclusion is that the people who've left them don't understand stretchy wraps. (For example, one complained that it was just one long strip of material. Well, yes. That's what a stretchy wrap is.)
The only 'negative' as such that I have about this wrap is that as my daughter has grown, I find it stretches out faster, and needs washing. It doesn't snap back to its original firmness anymore either, but I'm not sure if that's just because she's so much heavier now.
As a newborn wrap I cannot recommend it highly enough – especially for summer time babywearing – but I don't think it has the shelf life of a woven wrap.
Available in Grey and Circles, Red and Circles or Navy and Stripes and costs £46.95