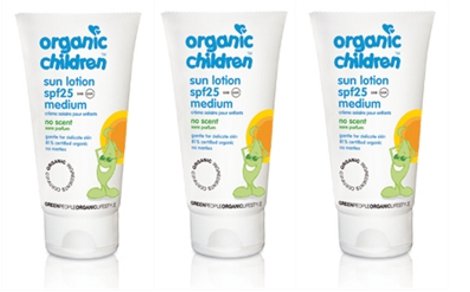 Green People's  Sun Lotion for kids is on a buy one get one free offer, so you're getting two bottles for £15.06 (plus postage), which might seem like a lot, but it  is a fab product that goes a really long way.
I keep holding out hope that summer is coming, and that these glimpses of beautiful days might stretch on, but so far…. Well…
Anyway, if you need a suncream for sensitive skins, I can really recommend this one. Unlike a number of 'brand name' brands that claim to be "sensitive", but still contain SLS, a cacophony of parabens, petroleum and other allergens, this is truly for sensitive skins.
This sunscreen is made with no Parabens, Lanolin, phthalates, artificial perfumes, petrochemicals or colourants,  is rich in antioxidants to protect against cell damage, and offers 96% UVB Protection.
As it is no scent, it also doesn't have any real smell which is good for sensitive skins too. I really recommend these products to anyone with a child with allergies, eczema and so on.
Your postage will be £3, unless it's your first order, then it's free.