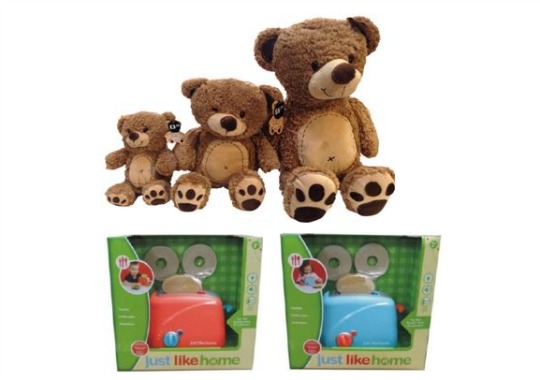 The Trading Standards website has information on two new product recalls issued by the retailers Dunelm and Toys R Us for children's toys which have been identified as having safety issues.
The Toys R Us Just Like Home Toaster has been identified as having a potential safety hazard as the play toast supplied with the toy can crack and break into small sharp pieces. Customers are advised to stop using this toy immediately and return it to Toys R Us.
The other item being recalled is all sizes of the CJ Bear that have been sold by Dunelm Mill stores. A potential safety hazard is that the seams may come undone exposing the filling, which may be a choking hazard. Customers are advised to contact Dunelm stores for a full refund.
Full details of the product numbers and the contact details for the stores can be found on the above links which will take you to the official Trading Standards website.  In the case of safety recalls you will be offered either a credit note or a refund for the item from the retailer.
If you think your children have either of these toys, or you gave them as a gift to someone else please stop them being used immediately and contact the retailer.