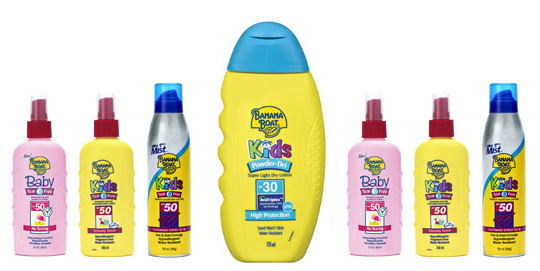 I can't help it, I have to be optimistic and believe we WILL get more than the odd day of summer here and there, in between the apocalyptic rainfall.
So on that positive thinking note, I am pleased to be able to tell you that Boots are offering half price deals on selected Banana Boat sunscreen and after sun, for children.
There are various different Banana Boat products to choose from...
SPF50 no-tears formula for babies that's been tested by pediatricians, is alcohol and fragrance free and is coloured white so you can see where it's been applied and where it hasn't - £6.24 instead of £12.49.
Banana Boat Sports for those who are in and out of the water every five minutes (or the rain, I suppose!) - £4.49 instead of £8.99.
Banana Boat Powder-Dri Lotion for those who like playing in the sand; it goes on like a lotion and dries like powder so sand doesn't stick to it - £5.99 instead of £11.99.
These are just a few of all the Banana Boat sun care products up for grabs for half price at Boots and if you spend over £20 you'll be able to collect your order for free in-store, or you can pay £2.95 for home delivery.
Happy praying for the sunshine!