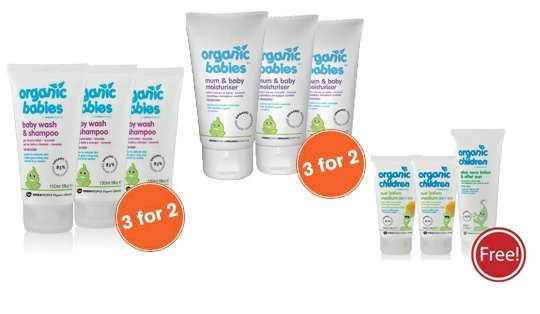 There are a few Organic Babies products on offer at GreenPeople this month:
The weather is so ridiculously changeable at the moment that I'm not sure whether to stock up on Moisturiser as a barrier for the wind and cold, or Suncream and Aftersun?! At least my girls need shampoo and body wash, regardless of the weather.
This is a really fantastic deal, actually. Yes, GreenPeople products are more expensive that your oversized, cheap-as-chips, chemical filled, off-the-shelves alternative, but for children's sensitive skins, I really don't believe there's anything better!
All three these products are a staple in our home, and I love that there are no nasties in them – and more importantly they work and they last for ages. 
There's a lovely and easy to read explanation on the Green People site about why you don't need more than an SPF25 (check the Q&A section of the product information.)
Delivery is free if it's your first order, and you get a free Sun Lotion Sachet With Every Order.