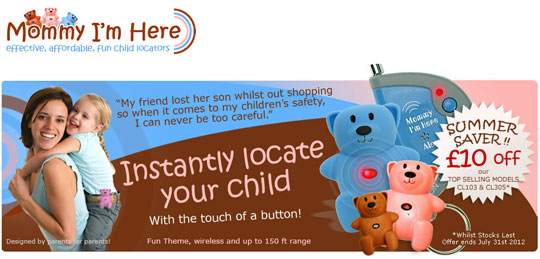 It's not often something 'parenting' lands on my desk to review where, afterwards, I'm still firmly stuck on the fence as to whether it's something of greatness or just a gimmick but that is where I am with the Mommy I'm Here! Child Locator device.
The Mommy I'm Here locators are made in China and are available in the UK from KidsRSafer.co.uk - there are two models on the market:
The standard locator for £29.95 or
The auto advanced locator for £39.95
Here's how it works...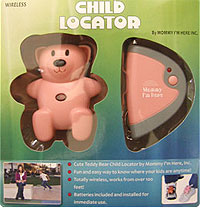 The Mommy I'm Here child locator comprises two units - a parent receiver and a child 'teddy bear' transmitter.  You pair the two units together so they can 'talk' to each other then clip the teddy bear transmitter to somewhere or something on your child - shoes, a belt, waistband, whatever.
When you want to know where your child is, you simply press the button on the parent receiver and the teddy bear transmitter will respond with a very loud 86 decibel sound and red flashing light.
The auto advanced locator takes this child location a step further by automatically triggering the alarm if your child strays more than 30 feet (10 meters) away from you.
So, that's the principle behind the Mommy I'm Here child locator; what do you think?  I'm sure you'll have an instant point of view - I did, but they were on both sides of the fence!
On one side of the fence I couldn't help but instantly feel this was a bit gimmicky - it's all very well having an alarm going off but what if your child is already well out of the 150feet (50 meter) range when you notice they're gone?  THEN what?
Combine this with a crowded place where you can't see your child for the huge throngs of people milling around everywhere and a plastic pink or brown teddy bear attached to your child's clothing really isn't going to help you!
But on the other side of the fence my mind raced back to the day I lost my youngest son, Edward, in the John Lewis fabric department in Milton Keynes.
We were there with my mum, Edward was almost three and was standing right in front of me.  I looked up at some material, I looked back down and Edward was GONE!  I'll never forget the feeling of complete and utter panic for as long as I live; in fact, even thinking about it now and the HUGE waves of relief when I found him is enough to bring tears to my eyes, still.
I had instant flashes of him never being seen again; I felt how scared he would have been if he'd been taken by someone else; I felt physically SICK!
In reality he was only six feet away from us; he'd wandered off to the other side of the sewing and embroidery thread stand and was watching one of the John Lewis sewing staff making some alterations to a dress.
But we couldn't SEE him and for all we knew, could have been miles away with a stranger - THIS is where the Mommy I'm Here child locator really would have proven to be worth its weight in gold.
NOW do you see why I'm stuck on the fence?!
It's too easy to say that parents should pay close attention to their children and when little ones do wander off it MUST be due to negligent parenting.  However, it could also be too easy to relax just a little too much if your child is attached to something like this Mommy I'm Here child locator.
In quiet places, like John Lewis, where there aren't massive crowds and a lot of background noise then I think it definitely has a place and would prove invaluable should your child decide to take a stroll around on their own.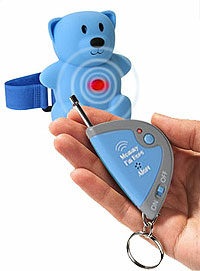 But if you're at a big outdoor event - a country show or fayre - and there's noise and people as far as the eyes and ears can hear and see?  I gave the child locator to my ex-husband and his girlfriend to test for me - her son is little, two-and-a-half, and they tested it in just such a situation for me.
One stayed with J and the other went away - obviously, they weren't going to leave him on his own on purpose.
Whilst the teddy bear unit did shrill out, signalling where J was they were rather concerned that whilst alerting them to where he was (and you had to follow the sound as best you could due to not being able to see him to start with) it would also alert everyone else in the vicinity that there was a child on their own.
Another issue raised was there being nothing to stop the child taking the teddy bear transmitter off, or someone intent on abduction removing it and throwing it away - all you'd find was the teddy bear and no child!
If I had to choose one I'd probably go for the advanced auto option - I think an automatic alert being triggered when your child is only 30 feet (10 meters) away from you is likely to be MUCH more useful, even in very crowded and noisy places.
But if you ask me whether I'd buy one in the first place, I'd have to say it's unlikely.
And finally...
There's absolutely nothing wrong with the Mommy I'm Here child locators at all; I think it's one of those things that either appeals to you and will give you peace of mind, or not.
It's very easy to set up, very simple to use and if used in conducive situations does what it promises to do.
Price wise, personally I think it's a little expensive for what it is - HOWEVER, kidsrsafer.co.uk have a summer sale running until 31 July which brings the price of each Mommy I'm here locator down by £10.
This makes the standard version just £19.95 an the auto advanced version £29.95.
I'm finding it almost impossible to pin my colours to a mark out of 10 for you, due to my precarious perching on the fence, but I think around a 6 or 7 out of 10 would be fair.