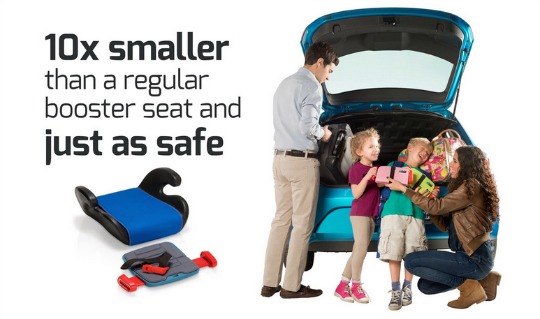 Every now and again a new product gets launched that is so simple and clever that you wonder why no one had done it before. The mifold The Grab-and-Go Booster Seat is one of those products.
It's a child's booster seat that is ten times smaller than a regular booster cushion and is just as safe. Because seatbelts are designed to fit adults ordinary booster seats work by raising a child up for the belt to fit them in the correct place. The mifold does the opposite by bringing the seatbelt down to fit the child - genius! And it's tiny!
The mifold is not designed to be a replacement for your regular booster that you have in your car at home, but to be a compact, strong and portable solution when you can't take your own booster with you. For holidays, car sharing, grandparents cars and taxis these can just be popped in a bag and taken with you anywhere - they are smaller than an iPad so taking it out and about shouldn't be too much of a problem!
It was invented by Jon Sumroy, a father of four, and is backed by JamJar, the investment fund behind Innocent Drinks, and mifold is now in the crowdfunding stage. This means that you can pre-order soon and save yourself a packet on what it will cost when it goes to market. The retail price for mifold will be £34.99 but during the pre-order period it will be significantly reduced to £23. That's way cheaper than other travel booster seats, for example the Trunki BoostApak has an RRP of £49.99!
Right now you can sign up to the newsletter on the mifold website, and they will keep you up to date with pre-ordering, promotions and launch dates. It looks like there will also be lots of other deals and promotions, like multipacks, limited editions, personalisation and things like that, so put your name down if you want to be the first to know about it.
So what do you think of mifold? Let us know in the comments or over on our Facebook page.