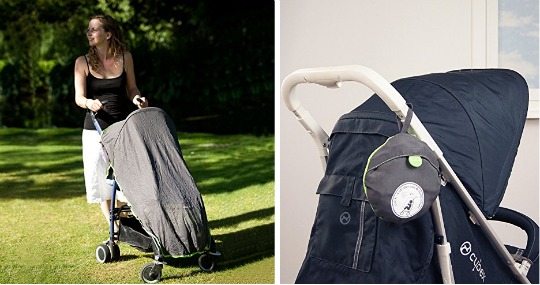 With the summer here, and the holiday season on the go, this Koo-di Sun and Sleep Stroller Cover is a must have for many parents, and it's down to £9.51 at Amazon. It's a breathable universal cover that protects baby from the sun as well as providing a dark environment conducive to sleep.
Remember Heidi's feature on the danger of covering prams and pushchairs? Well this is one of the items that is safe to use to cover your pushchair as it has breathable mesh fabric to prevent overheating. The fabric blocks 93% of UVA and UVB rays protecting your child from the sun, and provides a nice dark haven for nap time when out and about.
It is designed to fit most strollers, and folds down compactly into it's own pouch so that it can be carried in a changing bag or under the pushchair. Have you seen how tiny it is when it's folded down? It's that teeny little bag on the buggy handle in the picture above! It's not going to take up much room in your luggage or changing bag!
Reviews for the Koo-di Sun and Sleep Stroller Cover are fantastic, and for less than £10 this seems like a brilliant purchase for anyone with a baby or child in a pushchair this summer.
If you have Prime then Amazon will deliver this for free, otherwise charges will apply for orders less than £20.