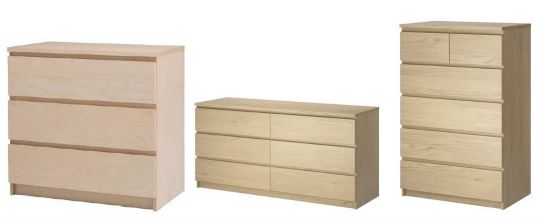 Ikea US has offered free repair kits for millions of prices of furniture after two children were killed by drawer units that tipped over and crushed them.  In a press release today from the U.S. Consumer Product Safety Commission they state that this is not a recall, but a repair programme, and that the kits are to anchor the furniture to the wall.
Here is an extract of the US press release that gives more information on the products involved:
The U.S. Consumer Product Safety Commission (CPSC), in cooperation with IKEA North America, of Conshohocken, Pa, is announcing a repair program that includes a free wall anchoring kit, for their MALM 3- and 4-drawer chests and two styles of MALM 6- drawer chests, and other chests and dressers.  The chests and dressers can pose a tip-over hazard if not securely anchored to the wall.

IKEA received reports of two children who died after MALM chests tipped over and fell on them.  Consumers should immediately stop using all IKEA children's chests and dressers taller than 23 ½ inches and adult chests and dressers taller than 29 ½ inches, unless they are securely anchored to the wall.  The free wall anchoring kit should be used to secure MALM and other IKEA chests and dressers to the wall. About 7 million MALM chests and 20 million other IKEA chests and dressers are part of the nationwide repair program.
The statement details the details of the two children whose deaths were reported to them, and also states that Ikea is aware of a further 3 deaths from tip-over incidents, along with a further 14 reported accidents.
The action has been taken due to the investigation in the US, but at present there is no similar announcement from Ikea UK or any other countries, even though the furniture specified is sold worldwide. Concerned customers in the UK have been taking to social media in an attempt to get a response from Ikea UK and find out if they can get the same repair kit. We will keep you posted.
You can read the full press release here.
EDIT: Ikea UK customers who do not have the wall fixings kit that came with their product can now request a free replacement kit to secure their furniture. Click here for more details.