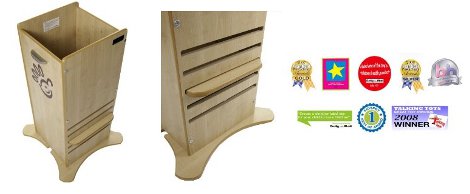 The Little Helper FunPod Toddler Kitchen Safety Stand is currently on sale with 15% off at Amazon – but act fast: It's one of the Deals of the Week and ends at midnight tonight.
I died a little on the inside when I saw this FunPod on offer for £84.99, both because it's a great price, and because I still can't afford it or justify it at the moment!
Basically, a FunPod is a height adjustable box for keeping your toddlers safe in the  kitchen. It has a locking mechanism on the footplate to prevent movement, and rubber feet on the base to prevent moving around with a bouncy toddler inside.
The first comment in the reviews is by a guy called Nick Coffer – who I had the good fortune to meet a few years ago at the Good Food Show in London. Nick and his son Archie have built a whole business and career out of blogging their  kitchen exploits together, and I was introduced to the FunPod through Nick's website. I am totally in love with the concept as my toddler just plopps down on the counter while I'm cooking and I have to be super vigilant about her proximity to the stove  and so on.
If you can cough up for what is essentially a 'nice to have safety gadget' – which I really, really, really want – it's a great buy!