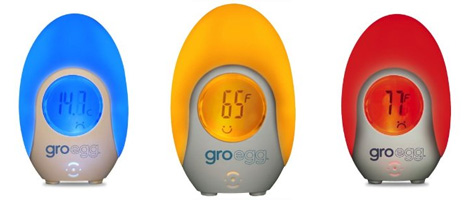 I came across these Gro-Egg room thermometers when I was expecting my youngest and decided that I had to have one!
I feel the cold rather easily and find it rather tricky to judge whether or not the temperature is 'ideal' or  not for small people, or any sized people for that matter.
I can be sitting with numerous layers on, three pairs of socks have freezing cold hands and everyone else is telling me, "it's not that bad."
As a result, room thermometers are a must for me. I did the cardboard things with the colour changing temperature strip that you stick to the wall, yes they're cheap but they're also dead boring.
I wanted something 'more' and a Gro-Egg room thermometer looked to be just the thing; I ordered one and I LOVED it!
It changes colour with the ambient temperature in the room and because it glows, you don't need to turn the light on to read what it says - unlike their cardboard cousins.
I've read some reports about them being unreliable, but I never had any problems with mine and found it to be very accurate; I felt vindicated when it went blue one day and everyone concurred that it was, indeed, a bit chilly!
Gro-Egg room thermometers usually retail for £21.95 but they are currently up for grabs for £14.84 at Amazon.
Thanks to londonuk over at HUKD!