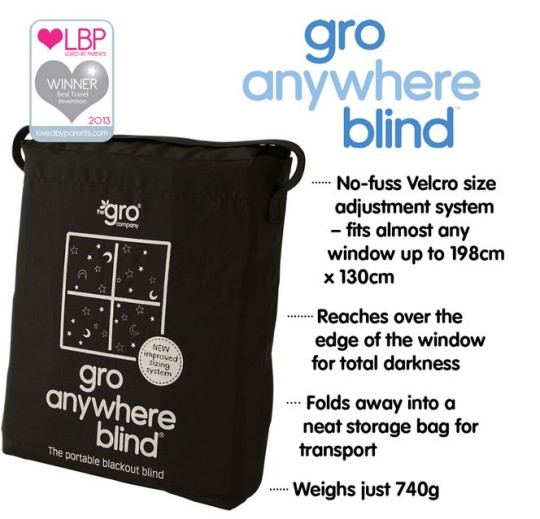 Amazon have the Gro Anywhere Blackout Blind on sale for £14.64 - this is reduced from £29.99 but you can find them from about £27 including delivery online, so this is still a good price for a useful product. If you look on the right hand side, seller George and Freddie are selling it for £13.20 delivered if you prefer that, just make sure you check their feedback first (as always with non Amazon sellers.)
The Gro Anywhere Blind makes it easy with a simple suction cup system, the blind attaches to just about any window from 130 x 198 cm down to about one-third of that size, shutting out the light completely thanks to flaps that reach right to the edge of the window.
In the box you get a Gro Anywhere Blackout Blind, a travel storage bag, and an instruction manual, which should all help you get the kids to sleep a little easier, because let's face it, when the sun's shining out there - who wants to go to sleep?
I don't know about your kids, but my little one wakes with the sun every morning so this would be great for the mornings too - give us a few extra hours of sleep. Fabulous.
Anything that gets the little ones to bed a little earlier and easier, or up a little later is good in my books!