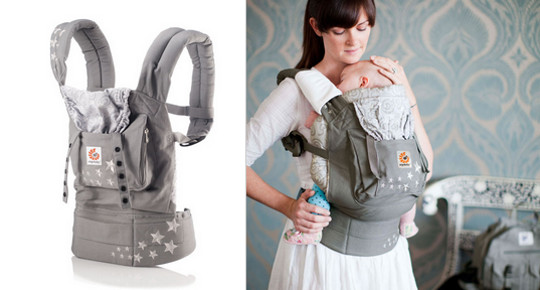 As my baby has grown massively in size in the last five months, so have our baby carrier needs, and while I've loved our snuggly wrap and will miss it, I had to move on to something else. The 'obvious' next move for us was the ERGObaby.
The ERGObaby carrier, or simply Ergo as it's commonly known,  was developed by a mum who wanted to develop the 'ultimate baby carrier'. Her vision was to "construct a baby carrying device that would support her child's spinal development while distributing the baby's weight to parent's hips and shoulders, alleviating stress to the back and neck."
Her vision was specific, and her goal was definitely achieved. I know many parents start out liking the idea of a baby carrier. They don't know much about it, so they head into the first baby shop they can find and take whatever comes 'recommended' by staff that haven't actually tried many, if any of the options. Within about 3 - 6 months the baby is heavier and the strain on especially mum's back is too much, and they give up the beautiful journey of 'babywearing'. 
When you have a proper carrier, that takes weight distribution and the child's spinal development into consideration, you can easily and comfortably carry a baby into toddlerhood - much easier than carting pushchairs around airports and in and out of public transport, and you don't end up pushing an empty pram about when your toddler decides they'd rather walk!
I've been using the Ergo with my baby since she was four months old, and I was able to put her legs out the side. You can use it in the frog leg style with newborns, and there is a newborn insert that you can use to keep littlies safely snuggled.  The bonus of the Ergo, and why I'd probably buy it above various other brands, is that it goes into a very comfortable back carry with an older child. In fact, when my little one wants to be held, but I have work or housework to do, I can put her quite comfortably on my back and get on with it. She's firmly held, and secure, and most importantly, she is also comfortable.
We went to a festival a few weekends ago with both girls, and I was able to swap out baby on front for toddler on back when it was naptime, and my almost three year old slept very happily on my back while we listened to music. I almost found the back carry with a large toddler easier than a front carry with a baby.
Another bonus of the Ergo over, for example the Mei Tai, is that it doesn't have cross straps to tie off around the front, so you don't end up with Madonna-esque cones for cleavage. This is a fairly large bonus. The only negative is that while the hip strap is great for covering baby fat in the front, when it's used in a back carry the same foam strap doesn't exist, and you can have a bit of a cut off sausage look - but that's just motivation to get fit, I guess!
There's a flip over cover portion (the patterned bit that tucks into the pouch in the image) which clips onto the shoulder straps to act as a hood. This is perfect for when baby is sleeping, as it keeps them protected. It's also good for sun or rain cover, if they're willing to be covered. I was also able to breastfeed 100% discreetly with the cover up and no one knew I was nursing.
The hip strap, arm straps and back strap are adjustable so they can be easily set to fit whoever is carrying. My husband and I can swap over without too much adjusting - he just makes the hip strap a bit smaller.
The ERGOBaby website has loads of instructional videos on how to carry, put in, and take off a baby or child, and there's a whole page dedicated to the science of babywearing - including looking at hip dysplasia that can occur with standard forward facing carriers and so on.
The Good
ERGOBaby has good spine support and a natural seating position
It's made by ethical business partners and from ethically sourced materials
It's super comfortable
It looks nice and stylish
There's a good range of colours, and they're pretty unisex - dads look good in them too!
The Bad
ERGOBaby carriers cost a little bit more than your mainstream carriers, but then they'll last a lot longer. We had the one everyone first buys with our first child, and it lasted two months before it became uncomfortable - the Ergo will last a lot longer than that.
The Verdict
I love the ERGOBaby and recommend it heartily - as do most people who use them!