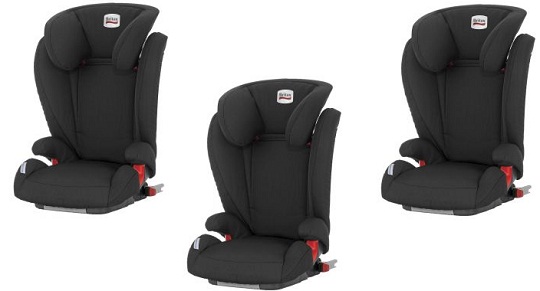 My son has a Britax booster seat. I don't know if it is the same as the one here - I can't remember now. But it certainly looks very similar. We've been really happy with ours, it has stood up to all the muck a little boy can throw at it. It's also easy to fit in any car. We researched this before buying, and went for a seat that we felt offered a good level of protection. A back and side protection were also crucial too. Baby & Co has reduced the Britax Kidfix High Back Booster in Max from £139.99 to £89.99.
A great feature on this booster seat is that it works with both ISOFIX, and with standard 3-point seat belts.
The Britax Kidfix 2 3 Isofit car seat is a highly adaptable seat with recline facility, offers optimum safety and comfort and the option of installation with ISOFIX points. The booster seat is anchored to the car via the standard ISOFIX system and the child is secured in the seat with the 3-point seat belt. The Kidfix can also be installed with a 3-point seat belt.
Other features include deep, softly padded side wings for side impact protection and an adjustable backrest for safe and compatible installation in a wide range of cars. The adjustable head support grows with your child
Belt guides position the adult belt comfortably and safely over your child's shoulder. Includes ISOFIX latch guides to help protect your car interior. Parents will like the removable, washable cover.
The large rounded headrest, as well as offering protection in the event of a side impact collision, provides extra comfort for your sleeping child.
The seat shape correctly positions the lap belt low over your child's pelvis. Its easily accessible belt path makes the seat far easier to install in three door cars.
Thanks to goonertillidie at HUKD!