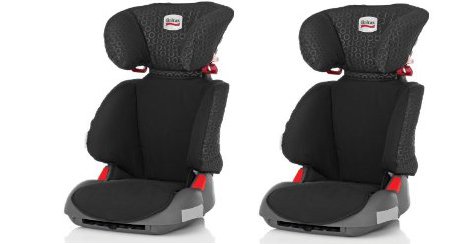 Amazon are selling this Britax Adventure 'Billy'  high back booster car seat for £24.99 instead of £59.99 - saving you 58% on the rrp.
I was talking to my husband the other day about how inconceivable it is, now, to think of putting a child in a car and NOT strapping them securely into a car seat; both of us remember just clambering in and bouncing around free on the back seats as youngsters.
It's probably not wise to work out how much money you're going to spend/have spent on car seats over the childhood years of your child(ren), but you can soften the blow by keeping your eye out for deals on seats like this Britax Adventure 'Billy' high back booster car seat.
This is the very seat that my youngest has in his dad's car and they both think it's awesome.
It's lightweight, it's comfortable (Edward says so) and it's standing up admirably to some serious five-year-old abuse.
It has all the safety features you'd expect and want from a Britax car seat: side impact protection, adjustable headrest, seat belt guide so it sits properly over the shoulder and the seat is shaped correctly to ensure the seat belt also sits comfortably across the lap.
This is an Amazon Deal of the Week so you don't have to worry about the price changing the moment you turn your back - you've got until this coming Sunday to buy at this price or until they sell out.
Thanks to nejjy at HUKD